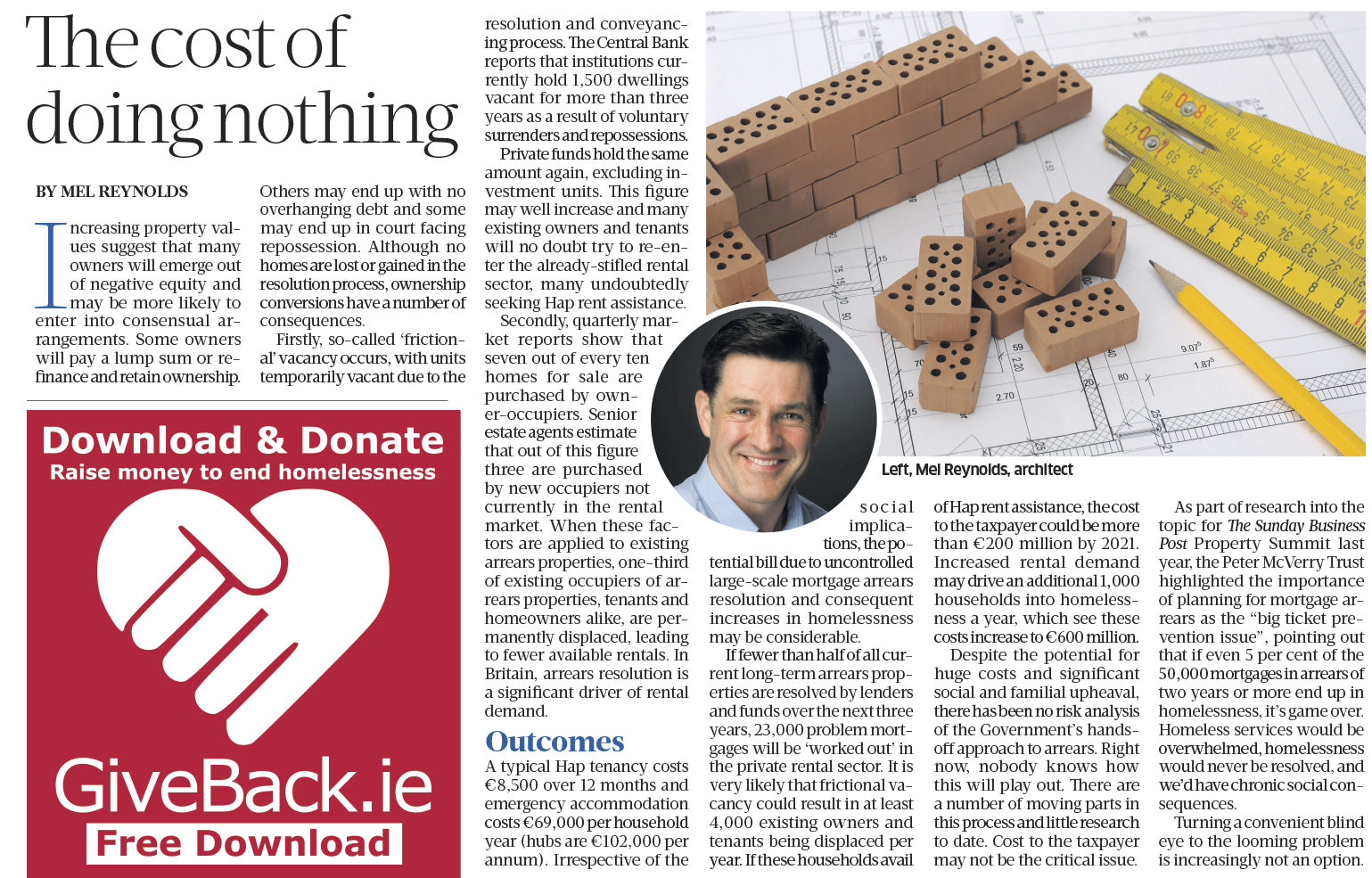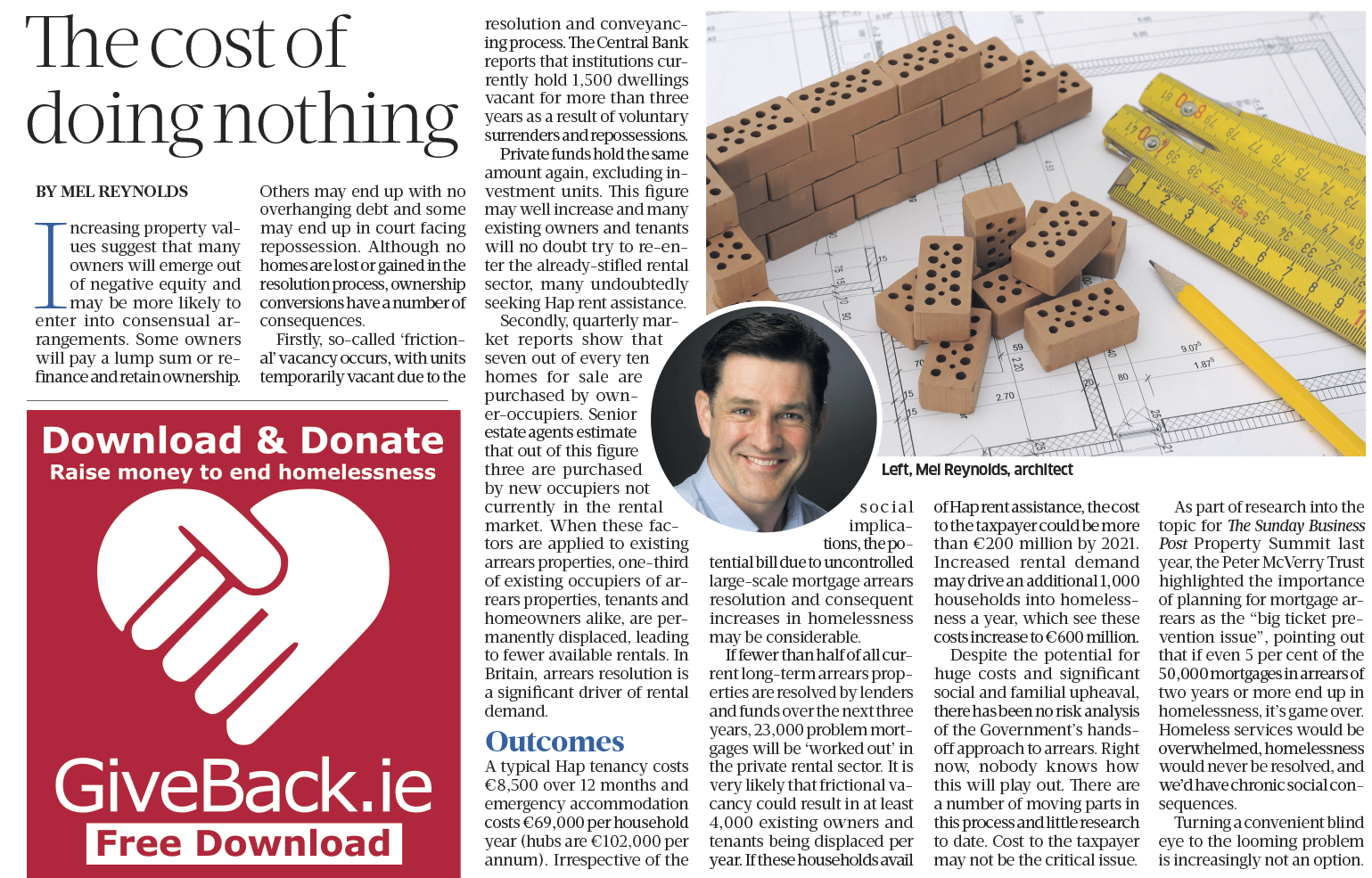 THE COST OF DOING NOTHING

by Mel Reynolds

Arrears Resolution Implications

Increasing property values suggest that many owners will emerge out of negative equity and may be more likely to enter into consensual arrangements. Some owners will pay a lump sum or re- finance and retain ownership. Others may end up with no overhanging debt and some may end up in court facing repossession. Although no homes are lost or gained in the resolution process, ownership ʻconversions' have a number of consequences.

Firstly, so-called ʻFrictional' vacancy occurs, with units temporarily vacant due to the resolution and conveyancing process. The Central Bank reports that institutions currently hold fifteen hundred dwellings vacant for more than three years as a result of voluntary surrenders and repossessions.

Private funds hold the same amount again, excluding investment units. This figure may well increase and many existing owners and tenants will no doubt try to re-enter the already-stifled rental sector, many undoubtedly seeking HAP rent assistance.

Secondly, quarterly market reports show that seven out of every ten homes for sale are purchased by owner-occupiers. Senior estate agents estimate that out of this figure three are purchased by new occupiers not currently in the rental market. When these factors are applied to existing arrears properties, one third of existing occupiers of arrears properties, tenants and home-owners alike, are permanently displaced, leading to fewer available rentals. In the UK arrears resolution is a significant driver of rental demand.

Outcomes

A typical HAP tenancy costs €8,500 over twelve months and emergency accommodation costs €69,000 per household year (hubs are €102,000 pa). Irrespective of the social implications, the potential bill due to uncontrolled large-scale mortgage arrears resolution and consequent increases in homelessness may be considerable.

If fewer than half of all current long-term arrears properties are resolved by lenders and funds over the next three years, 23,000 problem mortgages will be ʻworked-out' in the private rental sector. It is very likely that ʻfrictional' vacancy could result in at least 4,000 existing owners and tenants being displaced per year. If these households avail of HAP rent assistance, the cost to the taxpayer could be more than €200m by 2021. Increased rental demand may drive an additional 1,000 households into homelessness a year, which see these costs increase to €600m.

Despite the potential for huge costs and significant social and familial upheaval, there has been no risk-analysis of the Government's ʻhands-off' approach to arrears. Right now, nobody knows how this will play out. There are a number of moving parts in this process and little research to date. Cost to the taxpayer may not be the critical issue. As part of research into the topic for the Sunday

Business

Post

Property Summit last year, the Peter McVerry Trust highlighted the importance of planning for mortgage arrears as the ʻbig ticket prevention issue', pointing out that:

If even 5% of the 50,000 mortgages in arrears of 2 years or more end up in homelessness, its game over. Homeless services would be overwhelmed, homelessness would never be resolved, and we'd have chronic social consequences.

Turning a convenient blind eye to the looming problem is increasingly not an option.